I spent my childhood drawing cartoons. I'm spending my adulthood drawing cartoons. See a pattern?  For the past 20 years I have created award winning broadcast, interactive, and web content for production studios, entertainment networks, government agencies, and corporate businesses worldwide. I try to  bring storytelling, humor, quality, and a spirit of open collaboration to every project.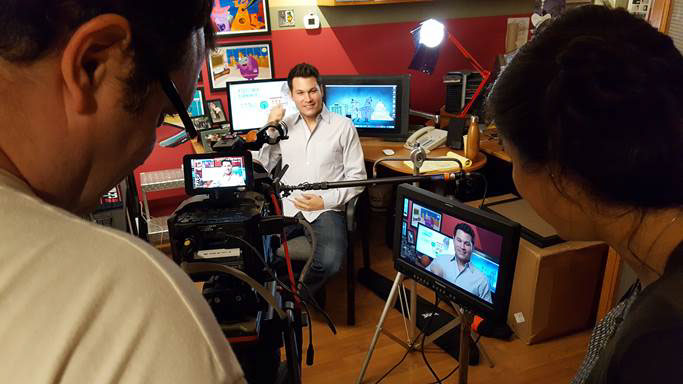 PBS Kids, Nat Geo Wild, The Washington Post, NBC Nightly News, The American Red Cross, Nestle Europe, The National Museum of The American Indian, AMTRAK, The Washington Auto Show, NIH, NIAA, NIDA, DOS, Discovery Channel: Global Education Partnership, Credit Union National Association, Children's National Medical Center, The New Media Firm, and McCarthy Hennings & Whalen.
I was trained in film making and drawing having received my BFA in "Film" from Syracuse University in 1999. I  learned the process of character animation interning at Animotion, a studio in Syracuse, NY that specializes in broadcast and interactive content. According to my mother, my training started much earlier, watching Saturday morning cartoons and eating giant bowls of cereal. 
After graduating from college, I started creating animation for award winning health educational products at Danya International. In 2007, I founded my own studio Karptoons, to expand my focus on solely health-based edu-tainment products, to commercial and corporate content for all ages. Building off the success of Karptoons I joined Interface Media Group in 2013 to form IMG animation where I serve as the Director of Animation.
-Director of Animation at Interface Media Group
-BFA in Film from Syracuse University
-Proud husband, daddy of two girls
-DC and 'CUSE sports nut
-Sci-fi and comic geek
-1980's TV idiot savant

Favorite Quote: "I know this defies the law of gravity, but I never studied law!" - Bugs Bunny