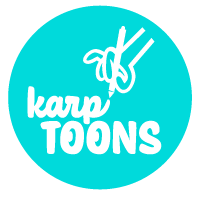 Full Website Coming Soon !
Sorry, our website is not quite ready yet. However we are open for business! Please contact us via email or call us at (301) 945-0156. Samples and pricing can be provided upon request. Thank you!
Whether it's to entertain, inform, or inspire, Karptoons bring ideas to life through animation rooted in great design and character driven storytelling. We make content for broadcast spots, messaging videos, social media content, interactive platforms ... you name it!
Karptoons is the virtual studio of Washington DC based director and animator Steve Karp.

​​​​​​​